What is On Screen Marking System?
The physical copies of manually written answers scripts are collected and scanned by using high-speed scanners at a secure location. The images are transmitted to an image server. Copies of these images are then distributed electronically and marked on screen by examiners. Question-level marks and examiners' annotations are captured throughout the marking process, without manual intervention. It enables examining bodies to monitor markers throughout the marking process and maintain tight control at all times.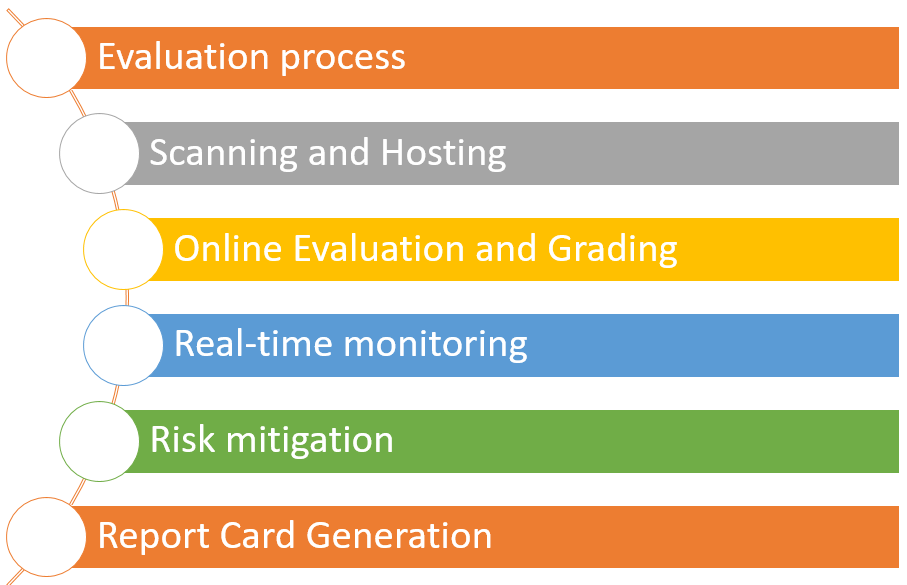 Easily Scan answer scripts within the Institution's premises
Secured storage on Cloud with 128 Bit Data Encryption
Limit movement of answer scripts and lower support staff cost
Encrypt transfer of electronic scripts to the data center
Provide access to examiners in secure mode
Easily retrieve archived answer scripts
Advantages of the Onscreen Marking system 
There would be more than 50% cost saving to universities who are using our platform to evaluate answer sheets
More than 60% reduction in the time required to evaluate the answer sheet. Examiners can complete answer sheet evaluation activity in record time.
Our platform is hosted in a secure cloud environment and it can be scaled easily.
We have included best Practices for answer sheet evaluation with feedback from Professors, Examiners, Moderators, Registrar, Controller of Examiners of various universities and education entities.
Examiners can evaluate the answer sheet from any location and in any time insecure manner. So examiners need not have to travel to a particular location for this activity. It would save the cost of travel and result in better time management.
Benefits of Onscreen Marking System 
It helps in quick result processing.
It reduces the time required to evaluate the particular answer sheet.
The total calculation is also automated.  The overall timeline for result processing can be reduced.
It is a secure way to remove malpractices of answer sheet evaluation.
Physical answer sheet handling is prevented. Secure logins and access controls ensure that the right examiner is evaluating answer sheets.
It also improves the accuracy of the answer sheet evaluation. Even other activities like moderation, re-checking becomes easy with this system.
Most importantly it reduces the cost of the overall process drastically. It eliminates error-prone data entry work completely.