What is SIS
The process of automating legacy systems there by enabling Educational Institutes to access data online in an efficient manner whilst allowing the Management to make better decisions. It also includes Student records management thereby allowing the Management to track the Student's progress and ensure getting the best outcome for the Student's.
How does a Student Information System work? 
Educational institutions now have the ability to efficiently perform tasks such as collating Students data, manage admission's, attendance, library data, fee payment, results all in one place, online, anytime from anywhere. Use import feature to upload accurate data in an instant.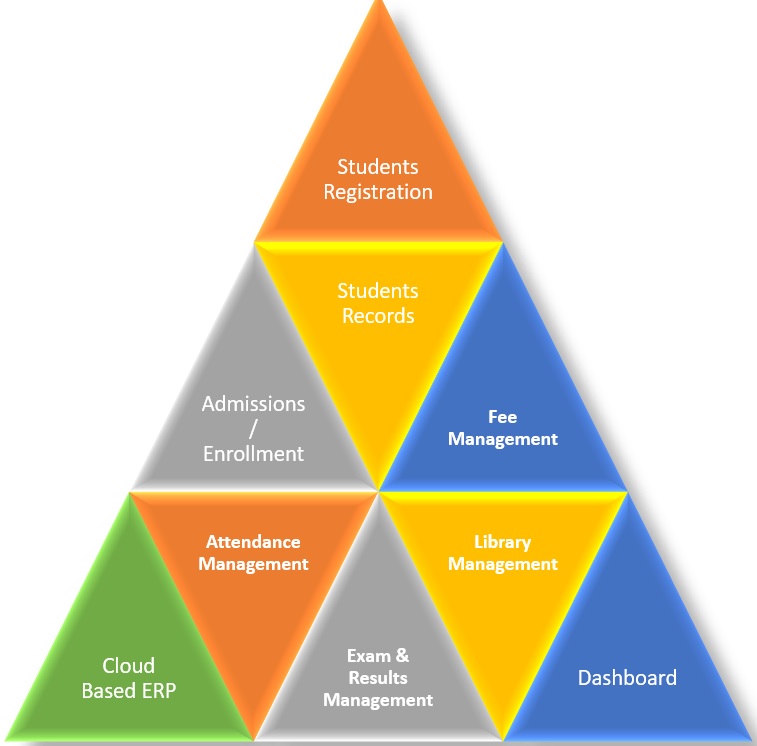 Cloud ERP
Manage and store all data to gain cost effective data management, save time and optimize resources using Cloud ERP.
Student Demographic
Capture student's basic details track their progress.
Contact Information
Maintain Students contact details, address, parents and guardian details.
Notification System
Send Alerts / Notifications to students, teachers, staff and parents via Email, SMS and Messaging.
Admission
Track inquiries, applications to admission and enrolments data with our Automated admission process.
Attendance
Maintain and distribute students every day attendance. Generate Reports as per Managements requirement.
Grades & Transcripts
Automatically process student's grades, distribute transcripts and include other relevant data in student's progress report. Set pre-defined parameters for automatic grades processing.
Reports
Take informed decision via interactive Reports in dashboard, analyze KPI's.
Library Management
Track books borrowed, place books on hold, request books, renew membership, fine calculation and reports generation.
Fees and Debt
Manage student fee payment and discounts. Information on if the student needs financial aid and other debt management.
Exams Management
The one-stop solution for secured Assessments on Cloud based platform with World-Class proctoring technology. Test-takers can use any of the available device - Desktops/Laptops/iPads/ Mobile Phones.
Students Career Management
Easily manage Students Higher Education, Entrepreneurship, Placements, Alumni details.